Products for Sale:
Order Online and have item(s) shipped to you OR to order by phone –
call 864.233.1514 (local) or 1-800-922-9252 (toll free)
Order BOTH products together and
SAVE $9
by having them shipped to same address.
AWARE in South Carolina, 12th edition


By Charles D. Wyatt, Jr.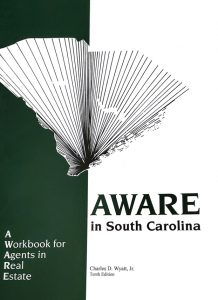 Updated to include the NEW South Carolina Real Estate Practice Act. A great study guide for both SC and National Real Estate License Exams.
The book's author is Charles D. Wyatt, Jr., founder of Wyatt Institute.
Just $45.00


(includes tax)


+ add $10 to ship
---
Real Estate Qualifier Plus® IIIx


from Calculated Industries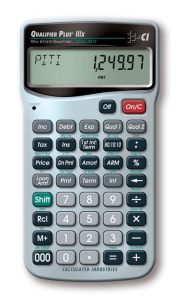 The World's Best Finance & Qualifying Calculator
This is the Qualifying Calculator Used by Thousands of Real Estate & Lending Professionals! Impress Your Clients with Instant Financing Answers! Impress your clients with fast, accurate answers to all their real estate finance problems with the world's most complete and easy-to-use qualifying calculator. Have the answers to tough financing questions at your fingertips! Unlike a regular calculator, the Qualifier Plus IIIx has custom and intuitive "mortgage & qualifying keys" that allow you to solve hundreds of real estate problems quickly and accurately. No confusing keys or functions.
Complete Buyer Qualifying keys:  Payment, Loan Amount, Term, Interest, Taxes, Insurance (used for PITI payments), Sales price & down payment, Amortization, Balloon payments, Bi-weeklies, ARMS, Find APR, Built-in Date, Math function!
Just $53.00


(includes tax)


+ add $10 to ship